May 11
1

"Everyone" says that video is "the future" on the internet.  More and more websites and blogs use video.  Video email is now a big thing.   It seems that most tutorials are in video format. Video conferencing is "in."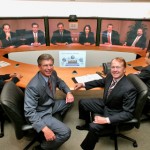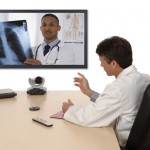 Credit for the images above goes to the VideoConferencings blog, which states that, "Video Conferencing allows participants to see each other. Eye contact is essential to building trust among colleagues working in different geographical regions…"
Non-Verbal Communication
The bigest advantage that I see is non-verbal communication.  Certainly we can get more cues to the meaning and the feeling behind content from body language, facial expression and tone of voice, etc.  Especially emotion and conviction are conveyed better through visual cues than through mere text.
I have been surprised, however, when some young friends of mine said that they think video is "faster" than text.  That baffles me, because I can speed read or skim text much faster than I can patiently wait for someone to say what they have to say on video.  In an era of information overload, I often prefer to get my information in text form.
However, when I want to totally communicate or to build trust with an internet contact, I use free video conferencing from Google Plus.  It is like Skype on steroids. Up to 10 people video-conferencing on their webcams from up to 10 locations and all seeing each other. Live broadcast to unlimited audience or record and replay. Screen sharing and white boarding, etc. http://LearnGoogleHangouts.com/
Another big difference between the two modes of communication is active involvement versus passive reception.  I call it "leaning forward" vs. "leaning back."  Some people are accustomed to leaning back to let television (or videos) speak to them, while others prefer to actively engage in the process by searching, clicking, reading, and commenting.
This difference relates to the changing trends in media from "push" (TV) to "pull" (internet) and now back again to "push" (video).  Mostly, I prefer to pull the information I want from search engines and skimming text. But I do recognize the advantages of more complete communication through non-verbal cues.
Related posts: