Jan 11
2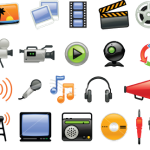 Multimedia Usage and Non-Verbal Communication
Components of multimedia include a broad spectrum of channels and devices. Usage of multimedia spans an even more diverse explosion of applications.
As a professional networker, I am most interested in the usage of multimedia for connecting with new friends and nurturing relationships with existing friends and followers. Especially on the internet.
The biggest advantage of multimedia for networking is the multi-sensory communication of non-verbal cues, like facial expressions, body language and tone of voice. Presence, posture, and "personage" are best communicated live and in person, but video webcasting with a webcam is the  "next best thing to being there."
Personal energy, enthusiasm, personality, and aura are more powerful when you can be heard and seen in motion — especially live in real time. The numerous holiday videos I received this season really convinced me of the value of video for communicating warmth, friendliness and love.
If "a picture is worth a thousand words," a video must be worth ten thousand! One of my resolutions is to make far more use of video and webcasting  for communication with friends, family, and new prospects.
Free Video Conferencing with Google Hangout
Google has introduced an amazing new tool for FREE VIDEO CONFERENCING.  Google Hangouts allows you to use your webcam to conference with up to ten presenters in up to 10 different locations simultaneously.  You can even broadcast the conference LIVE or RECORDED to an unlimited audience.  To learn more about this wonderful tool, go to: http://LearnGoogleHangouts.com 
An article in Inc. Magazine explains in detail "How to Use Multimedia for Business Marketing." Webcasting is one of the techniques recommended by the authors:
Sharing videos over the Web is another great resource for small businesses in establishing a social media presence, particularly because of how many people are tuning in…. Webcasting is essentially broadcasting a video or media file over the Internet using streaming media technology, which can be distributed to many simultaneous viewers at once. Done the right way, webcasts, also called video podcasts, vblogs, videocasting or Web shows, can be effective promotional tools.
Related posts: