Jan 12
7
Love is a "many splendorous thing." Love is best shared live and in person. Non-verbal communication enhances the whole experience. However, there are many situations in which lovers are not in the same location. Modern technology has provided many channels of communication to bridge the gaps.
One of the most wonderful new video-conferencing tools is  Google Hangout , which allows you to talk face-to-face online for free with up to 10 people, who may be in 10 different locations, for as long as you like.  Yesterday I used Google Hangout to broadcast a live training seminar for about 2 hours using a webcam.   It was easy to broadcast and record with a webcam.  Now it is stored on a free online Google server in "the cloud." You can even broadcast your video-conference live online to an unlimited number of viewers ( like your own TV Channel ) and record the broadcast to be viewed later anywhere in the world for as long as you want.  (Click here for information about how to use Google Hangouts.)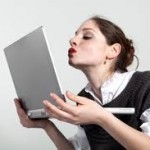 The fact that True Love endures long after the death of one of the lovers is evidence that proximity is not essential to feeling love.
In a previous post, Social networking may lead to love, I explained that:
Love begins with contact, online or offline. I have several personal friends who met strangers online, developed relationships, and have been happily married for a decade or more to persons they met online. One happy couple met playing cards online. Those relationships are worth a thousand other Facebook Friends. The key is that they turned contacts into relationships.

Love is more precious than any material things. My parents set a wonderful example of love for each other, for their children, and for many other people. I will always remember the passage from St. Paul's letter to the Corinthians, quoted at my mother's funeral…Three things endure, and the greatest of these is Love.
Relationships begin with communication and continue to be nurtured with communication, including social media messages.
Keeping "in touch" is relatively easy to do, but all too easy NOT to do! Little reminders that "I'm thinking of you," or I notice you, mean a lot. Attention and recognition are often "Better than Money!"  As you give, so shall you shall receive…
Related posts: