Aug 10
18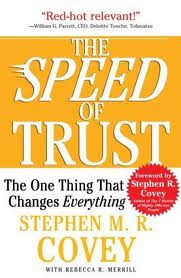 Trust is a key component in business (and personal) decisions. Greg Ferenstein wrote an interesting post on the Mashable blog about trust in social media, in which he quoted Professor Judith Olson, who has studied the essentials of building trust in digital communication. One of her most important findings is that "responsiveness is key" in building trust:
People are willing to pass judgment, with or without good information. Where examples of one's competence or reputation are lacking, people will construct whole profiles of another's personality from what little information is available.
In e-mail, Linkedin and Facebook messages, much of the traditional markers of trust, such as voice intonation and body language, are hidden. Olson finds that when only text is available, participants judge trustworthiness based on how quickly others respond. So, for instance, it is better to respond to a long Facebook message "acknowledging" that you received the message, rather than to wait until there's time to send a more thorough first message. Wait too long and you are likely to be labeled "unhelpful," along with a host of other expletive-filled attributions the mind will happily construct.
Related posts: