Apr 13
21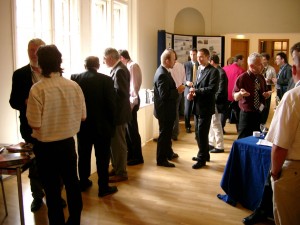 Business or Career Networking is Based on Relationships
Trust and Influence
My definition of networking is:  "leveraging trust and influence." It takes a long time to make an old friend! Trust and influence are cultivated over time and are based on experience with the friend's past performance. Sometimes difficult challenges help you find out who your real friends are!
If all we did at a live "speed networking" event were to collect business cards, we might be better off with the Yellow Pages directory. It would save us time and money, and it would have an organized index! Have you ever looked at your stack of business cards and wondered who were those people? Do you realize that they're wondering the same thing about your business card?
Networking Begins with Preparation and Ends with Follow Up
Credit for the image above goes to Teresa Humbert, who wrote an article on Heather Huhman's blog, "ComeRecomended." Teresa makes five sugestions, beginning with preparation:
1.Google: It is important to Google or LinkedInthe person that you're meeting with because it will help you network with them. It gives you insight into the industry they're in, the company they work for and how they can help you.
and ending with follow-up:
5.Follow Up:  Make sure that you send them an email saying how much you appreciated the fact that they met with you. If they actually get you another contact, tell them how that meeting went as well. If the people that you are networking with believe that you are appreciative, then they are more likely to help you out more in the future.
Social Capital
In a previous post about "Social Capital Futures," I wrote:
When you need a friend, "social capital" beats all other investments. There is nothing so valuable as a true friend who "has your back" and is there for you in time of need.
The Center for Human Systems posted an article about building trust and influence in which they wrote:
Building Trust

The strongest relationships, which allow the most influence simply for the asking, are built over time and have been tempered through hard times. These relationships have become worthy of trust. Trust is a critical aspect of relationships where ready influence is needed.
Connecting with Influencers
Nyerr Parham, Marketing Manager at Appinions, posted a helpful article on her web site, in which she states:
The foundation of influence marketing is building relationships with individuals who are in a position to help your brand increase awareness, build reputation, connect with an audience, and make sales. The basis for all of these goals is the development of a relationship with an influencer.

So once you've decided to reach out to influencers, should you do so as a brand or as an individual? Just who owns (or should own) these influencer relationships?

Our answer: Influencers want to develop relationships with people, so it makes sense to reach out as yourself – a living and breathing person – rather than a brand.
Social media are, by definition, social, and should not be overly automated. A "conversation" between virtual robots would seem oxymoronic! Networking is still about relationships among people. I call it "leveraging trust and personal influence."
Do you prepare for networking? Do you follow up? Please share your COMMENTS or suggestions for achieving better ROI from networking or what my friend Ted Rubin calls "ROR" (Return on Relationship)…
Related posts: